Grant Manson Mowat
Massage Therapist
Grant specialises in:
Remedial Massage

Sports Massage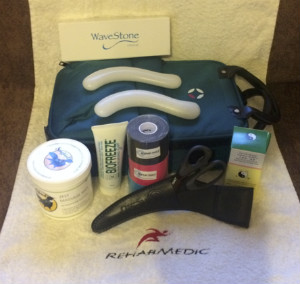 Grant Manson Mowat BSc Hons DARM CThA is a Sports and Remedial Therapist. Since qualifying in Sports Massage in 2007 in Barcelona he has worked with a wide and varied client group including professional tennis players in the prestigious Club Ciudad Diagonal, and is currently treating members of the Woman's British Lacrosse Squad, a selected British Mountain Runner and members of Carnethy Hill Running Club. Grant is always striving to expand his knowledge base as well as learn new techniques and approaches and has thus recently graduated with a Diploma from Scottish Massage Schools in Advanced Remedial Massage.
When not treating, Grant can usually be found galavanting around with his dog, Inca, enjoying the Great Outdoors, being an avid enthusiast of Trail Running, Bike-Packing, Mountain Biking and Windsurfing. Each and every treatment session booked with Grant will be unique and tailored to whichever specific regions require treatment. The following, however, is a guide to what you can expect to receive from a treatment session with Grant:
Range of Motion and Postural Analyses - in order to help determine what is the root cause of the issue.
WaveStone® Massage - specially designed ergonomic heated stones - are employed to encourage warm blood to the tissue and sedate the nervous system enabling the massage to ease deep into muscle tissue.
Deep Cross Fibre Friction Techniques - including Cyriax and Técnica Feje as well as Trigger Pointing - ideal to release any tight spots and adhesions as well as break down excess scar tissue.
Mobilisations - to free up joints, relieve aches and improve the joint's range of motion.
NeuroMuscular Techniques - Propioceptive Neuromuscular Facilitation and Muscle Energy Techniques are used to gently lengthen overly shortened muscles.
Medical Dry Needling - to relieve pain and sedate concentrated points of muscle tension.
BioFreeze® Gel - is applied over the legs and any inflamed areas at the end of the session in order to calm muscle tissue, encourage the elimination of toxins into the Lymphatic System and induce a sense of refreshed rejuvenation.
Kinesio® Tape - an elastic, cotton sports tape - is applied, if required, in order to continue the treatments's efficacy of tight or weak muscles, postural mis-alignments or regions of inflammation & swelling.
Aftercare Advice - throughout his time as both a therapist and a keen sportsperson Grant has accumulated a wealth of experience to explain how you can continue the work carried out in clinic in order to gain the optimum health benefits.